I have a secret, I love Sam of PBB double up! lol.
Aside from the comedy/love story of Jason and Melai, I now have another reason of watching PBB Double up. Yes my friends, its Sam.
Last Nov. 15 Big Brother comes up with another twist with the entrance of two new housemates, Rocky and Sam. From the moment I saw Sam I knew I saw her somewhere. I also thought she was one of my classmates in highschool haha! just kidding, she's just 19 there's no way…
Anyway, because I can't stop thinking where I saw her, I did some digging and there I found the answer. She's the girl in Voice Combo Sandwich "zipper mo bukas!" commercial. Do you still remember? here's the video:
Her real name is Samuelle Lynne Acosta Pinto, aside from Voice Combo Sandwich she also appeared in TV commercials such as McDonald's, Sunsilk, Colgate Calamansi and Red Toothpaste, Block and White Deo, Palmolive, Smart Gold and many more.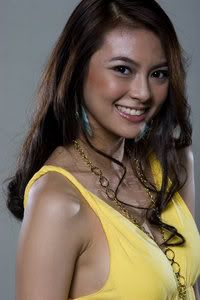 That's when I thought "kaya pala she looks familiar", I bet Sam will be "instant artista" when she gets out of big brother house and I will be waiting for her outside. mwehehe