I'm sure you visited this page because you're looking for a Toshiba laptop charger whether it's for your personal use or for someone else. It's really important to always have with you a laptop charger or adaptor specially if you're travelling because normally, laptop batteries only last for about 3-4 hours, of course depending on the brand and how long you've been using it.
The Standard lifespan of laptop battery is only a year or two. In fact, some computer companies only gives a year warranty for batteries. That means that even if you bought a one-year warranty extension for your laptop on top of the 1 year initial warranty that automatically comes with the system , battery will not be covered.
How much will a Toshiba laptop battery charger or adapter cost?
The price of a Toshiba laptop power charger normally depends on the power output. For example, a Toshiba Slimline 45W Global AC Adapter would cost you $49.99 while a Toshiba 60W Global AC Adapter will cost you $59.00. The Toshiba 120 and 180 Watt Global AC Adapter will cost $89.00 and $99.00 respectively. It's important to know that some models or parts already come with a power but some doesn't and you'll need to buy it separately.
How do I look for a compatible Toshiba Laptop charger or adapter with my laptop model.
Usually a Global Toshiba laptop charger works with several toshiba laptop models. A good example would be this global Toshiba charger below,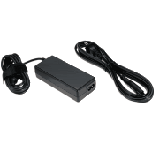 This is a Toshiba 60W Global AC Adapter and it works for with Toshiba Satellite 1800-S203, 1800-S253, 1805-S203, 1805-S253, 1805-S273; Satellite Pro 4280ZDVD, 4600; Portege A600, A605, R400, R405, R500, R505 and R600 series; Tecra 750 CDT/CDM/DVD, 780CDM/DVD, 8100, 8200; libretto U100 and U105 series portable computers. But to be sure, just check the specs first if it can support the laptop model that you have before buying one.
So there you have it, just make sure that you read the reviews first before making a purchase for a Toshiba laptop charger that way you don't end up buying something that will give you headaches. Happy shopping!