My post for today is all about an online guitar tuner, but before we go to that, Let me share my weekend thoughts first.
Wow. I can't believe it's saturday. I've just completed a week of work without being absent at alll. I wonder what the other petiks are doing. Maybe they're still sleeping. Did you go out last night? Okay. Whatever the answer is, I hope you had a good time.
Okay, let's go back to the Online Guitar Tuner. I was having a solo concert just about an hour ago in our living room, after performing in front of the "fan" hehe I noticed that my guitar is out of tune. Lately I've been off when it comes to tuning a guitar for some reasons. Maybe that's the effect of not playing regularly, I don't know, maybe not.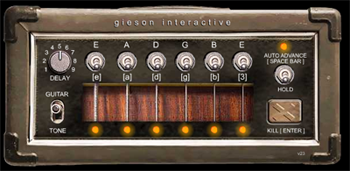 So I googled the word " Online Guitar Tuner " (Just out of curiousity if there's such an application), Guess what, I actually found one! There's actually a lot online but here's the link of what I've just found and plan to use.
http://www.gieson.com/Library/projects/utilities/tuner/
So if you feel like you're guitar tuning skills is getting rusty, just try it out, it may help you
If you know a better Online Guitar Tuner, feel free to comment and leave the link. Have a nice weekend folks!